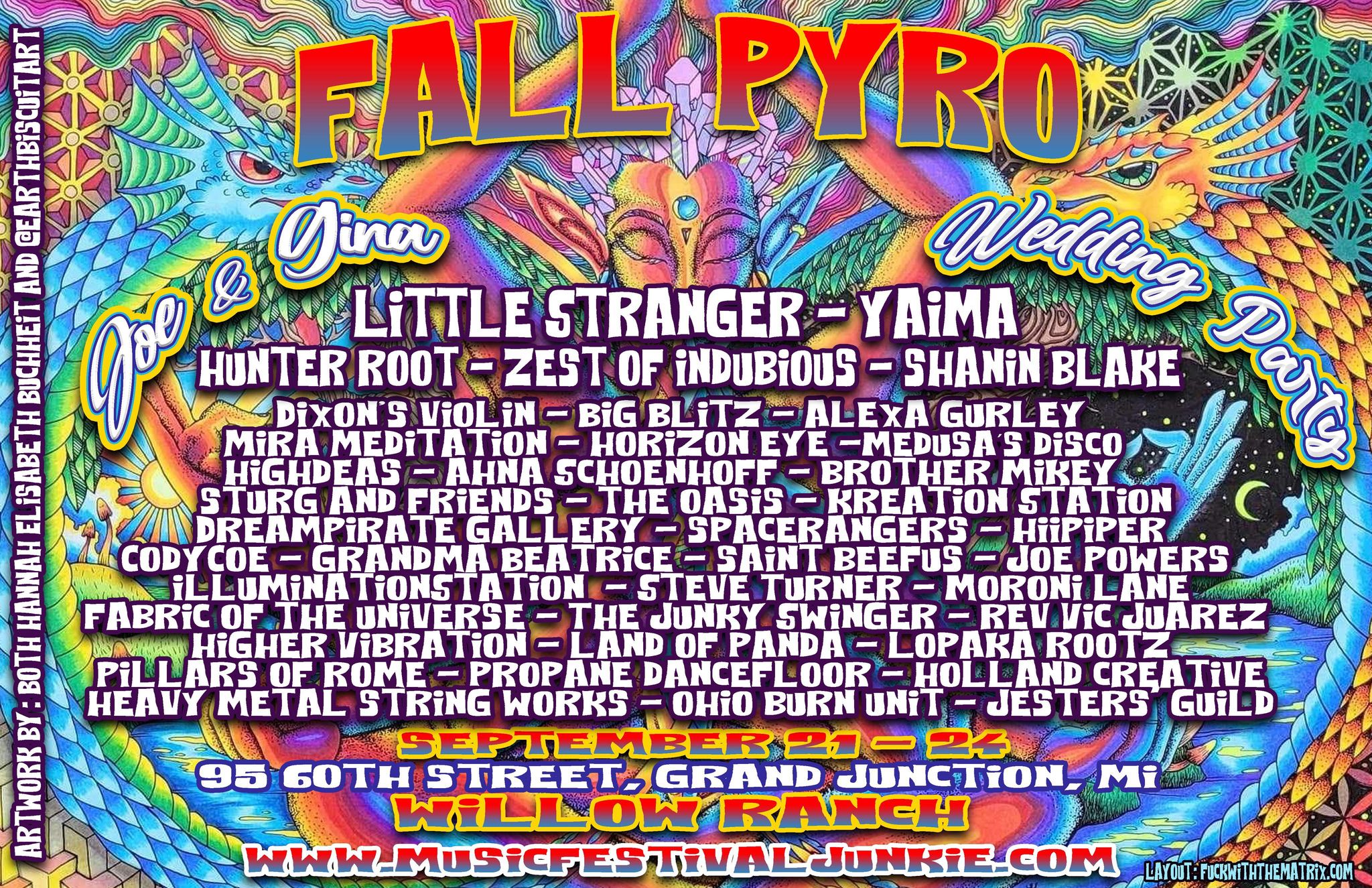 Pyro Equinox
33053
33053 people viewed this event.
Date: September 22-24th | Early Bird Thursday, September 21st (+ Purchase At Gate)
Address: 95 60th Street Grand Junction, MI | Willow Ranch
Get Directions: Click Here
Ticket Questions: Contact MFJs Teams
Food Vending: Contact Joe (330) 671-4310
Michigan is a dreamscape, we are traveling to a place that means a lot to our Michigan Pyro family and really looking forward to this adventure with all those who can take the time to be part of the Equinox celebration!!!
Pyro Equinox GA Ticket: $99
Pyro Equinox Pre-Party Early Arrival Thursday September 21st: $40 (Purchase @ Gate)
Parking Pass: No Parking Pass Is Needed. – Updated 8/16/2023
Merchant Vending Pass: Vending spaces will be $200 and includes electric and one wristband with Thursday entry. All Vending helpers will require their own wristband. Thursday Early Arrival is only included for the Merchant Vending Pass Holder, all helpers will need to purchase an early arrival at the gate.
Important Information:
*Important Information: Ticket Confirmation and Ticket will be sent to your email address. If you lose / or do not receive your ticket, your full name and order confirmation number can be used at the gate.
NEW: Attendee Name On Tickets Must Match Legal ID. ID's will be checked at the gate to confirm tickets match name. If you need to change names on tickets for any reason, please contact Ticket Releaf. Avoid Ticket Scams buy only buying from MFJ's website.